Consumers
Simple, secure online solutions focused on real-time consumer protection, crime prevention and property repatriation.
Fifteen years ago the idea that became Recipero was born out of a need and desire to offer the public more effective and efficient ways to deal with the reporting and repatriation of lost and stolen mobile devices.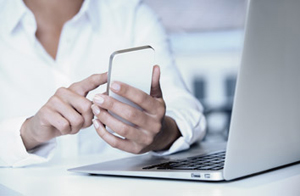 29 million cell phones are lost or stolen in the US every year.

Source:

Asurion

asurion.com
That goal has been successfully met on several levels such that today the Recipero Crime Reduction Ecosystem is benefiting the consumer in multiple ways.
Indirectly though the long running provision of services to law enforcement (NMPR), business services such as CheckMEND and AssetWatch, all of which have actively worked to identify and reduce mobile device related crime.
Directly by ensuring consumers are able to access our key services directly to gain the same protections and benefits our corporate clients have access to.
Recipero helps consumers through the following online solutions:
Immobilize – the world's largest free, online asset ownership registration services.
Report My Loss – Online loss reporting with direct links to law-enforcement and trade checking systems
CheckMEND – the world's most comprehensive mobile device history checking service.
Serious about data security
Recipero takes data integrity and protection seriously, not least due to our direct connections government systems, ensuring that data is held and transmitted securely and that personal information is anonymized when necessary.
To learn more about the solutions that we provide to consumers please see the solutions below: