Retailers
From POS through to back office and operational facilities, Recipero solutions work to protect customers, staff and profits.
In the retail environment there are many scenarios relating to mobile devices, which Recipero's solutions can improve and enhance.
Recipero offer a full suite of solutions, from providing automated pre-loss/theft property registration, to integration with POS and in-store trade-in systems, right though to active stock monitoring that can provide early warning of stock leakage and logistical losses.
The great power of Recipero's solutions comes from their integration with and access to the Recipero Crime Reduction Ecosystem.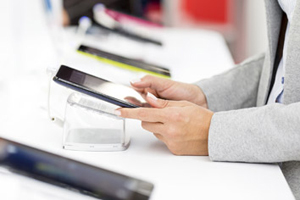 Over $5 billion worth of cellphones are lost or stolen annually.

Source:

Asurion

asurion.com
Whether your business is looking to;
add a layer of crime reduction reassurance for you customers (Immobilize);
address fraud and criminality (CheckMEND, AssetWatch), or;
are simply focused on the bottom line and shareholder value.
Recipero are almost certain to have a solution that can deliver tangible results and ROI.